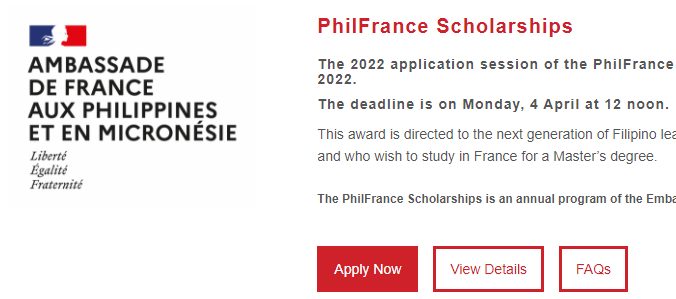 French Embassy which is in Manila is now Accepting Scholarship Applications for 2 Government Scholarship Programs for the AY 2022 – 2023.
PhilFrance Scholarship
DOST Scholarship
PhilFrance Scholarships programs Targets highly Qualified Students who are Demonstrated.
Students Must Be:
Students Must be a Filipino Citizens
Students must be Graduates or Graduating Students of Philippines Higher Education Institution.
Students who are currently college or University must have Graduated before Sep – 2022.
Note: On Previous Scholarship Awardees:
At the time of PhiliFrance Scholarship, Students who are already been Awarded to a French Government Scholarship Under another type of Scholarship program, are ineligible in this Scholarship Program, even though the previous scholarship Program have covered Health Insurance.
---
Eligibility Requirements:
English, French or both Language must be to the students
Master's Degree (Full time) Level of Study
Dual Degree and Joint Master's programs who are with foreign higher Education institutions are not eligible in this scholarship Program, even if He/She has Studied in Higher Education Institutions in a French Language
Duration of Master's Programs will be in the length of 18 months or 24 months which include the mandatory internship Period to.
The Program Starting date is on September 2022.
The Program End date will be at March 2024 For (18 Months) and September 2024 for (24 Months)
Location will be at French Higher Education Institution which is in France.
This is Based in France are not eligible for this Scholarship
Students who are with Master's Programs at International Campuses of French Higher Education are likewise not Eligible.
Students who spend outside France during the Year of Academic Semester or year abroad will not be covered by this PhilFrance Scholarship.
Documents Requirements:
One page CV Must be with Detailing you are
Academic
Professional
Leadership Experience
Required an Academic Essayno which should be longer than 500 words,
Explaining in details why you're wanting to study in France.
How you are Degree and Experience will benefit in the Philippines Society.
NB: Essays which is Exceedingly more then 500 words will be Discarded along with the Application Form.
We will ask an Academic essay
Not a Cover or a Motivation letter.
Required an official true copy of Complete and last Academic Transcripts with university level grades.
Proof of Completed Application letter of Acceptance to Master's Degree Programs (HEI) which is issued by French Higher Education Institution in where u have Applied.
Required letter of Acceptance with Digital Copy or Screenshot of email
Required proof of Completed Application: Submit Screenshot of an automated email which you got upon successful submission on your Application Process.
Screenshot of onscreen Notification which got on HEI's online Application portal of you are completed online Application portal
Required copy of the Program of study plan or chosen program's which says about the academic calendar. For this Duration
This information is available on the French HEI Website. You can also ask for a copy of this from Admissions team or Program Coordinator.
Required a Proof of Financial Copy. Of Students (Parents/household)
With lates income tac return statement
Recent Bank Statement Certificate
All Documents must be true copy.
Optional Requirements are:
Acceptance Letter/ Acknowledgment Letter of Application to other Scholarship Programs. Which is as long as not given by the French Government
Scholarship which is offered by the French HEI or which is Offered by Private Companies Associations.
DELF French Proficiency Results on Test / Need a letter from a French Language instructor which is detailing you are way of writing and Speaking skills proficiency levels
Documents formats are:
(.docx) word Format
Academic essay
PDF Format
Documents must in in PDF FORMAT
Reduce the size of you are PDFs files. Maximum file size for every PDF is 2 MB. Not more than 2 MB.
---
Important Points to Remember while applying Scholarship:
Online Scholarship Application is only Accessible through a Desktop web Browser, this is not accessible on Mobiles and Tables.
Documents which are Additional like Recommendation which are submitting without Embassy Requesting, Will not be Accepted.
An attempt to unduly influence the making decision process like intervention by third parties This will result into Dismissal of the Application Candidate's
Application Calendar given below:
Application Duration is (January 24th to April 2022) by 12 noon
Time Application Duration is 6 Weeks from the Deadline.
Note: if you see any changes in you are application or admission status, please inform us soon by mention email given by sending you are updated acceptance letter to mail id –

[email protected]

Final Results: Result will be announced by 30th May 2022.
Note: students who are only short listed will be Nominated for this scholarship and will be Notified by email on which you have mention on your application Form.
If Students who do not receive any email by the date of 16May week, this indicates that that he/she is not selected for scholarship Program.
Scholarship Benefits:
He/She who are nominated to this scholarship Program will be given the following Benefits by Boursier du Government francais (French Government Scholar).
Tuition Fee for Students for the entire Master's Duration Program
For public sate regulated universities:
Exemption University Registration Fees
University registration Fees as of 2021 academic Year is
€3 770 per academic year for Master's degrees.
Other French Higher Education Institutions:
Partial Tuition fee will be given
Amounting of Maximum of €5,000 per Academic year which is covering the Duration of Master's Program.
Monthly Stipend of €700 will be given
Including €700 installation allowance
Note: Stipend may be Suspended during internship periods.
Health Care Package will be given to students
Student housing (Priority Access to Public)
1 Round Trip Flight ticket will be given from Manila to the French city of Destination
Visa Application Fees for French Long-Stay
Note: External Visa Fees which cost around P2000 will not be covered
Click Here to Apply you are Scholarship — https://philfrance-scholarships.com/