CHED for Future Statisticians (ESTATISTIKOLAR) Application Form CHED Scholarship Program Open application.
Read General and Documentary Requirements. Fill in all the required information. CHED Scholarship Program For Future Statisticans (Regional Office Vll)
The name and photo associated with your Google Account will be recorded when you upload files and submit this form. Only the email address you enter is part of your response.
FINANCIAL BENEFITS PER ACADEMIC YEAR:
For State Universities (SUCs) And
Local Universities / Colleges (LUCs)
Full State Scholar – PHP80,000.00
Half State Scholar – PHP40,000.00
For Private Higher Education Institution:
Full Merit – PHP120,000.00
Half Merit – PHP60,000.00
You can Download Application form Below: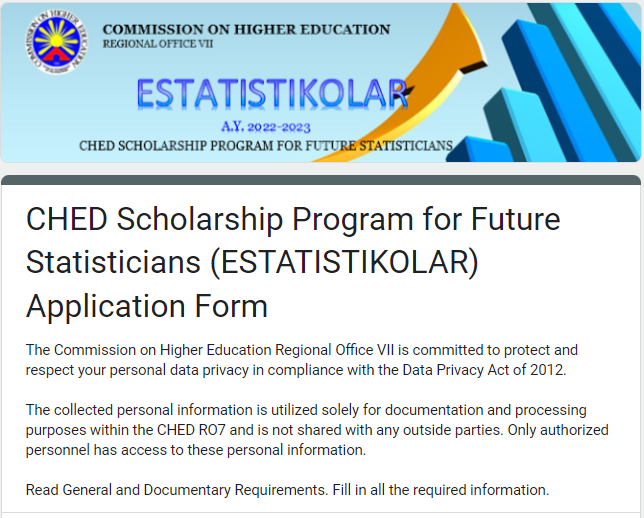 CHED Online – Application Form
GENERAL QUALIFICATION REQUIREMENTS
1. Filipino citizen;

2. Graduating college students with a general weighted average (GWA) of at least 80% or its equivalent.
3.Combined annual gross income of parent/s, guardian which does not exceed Four Hundred Thousand Pesos (PhP400,000.00), or in cases where income exceeds PhP400,000.00 an applicant must present a written certification or medical findings of illness of a family member, or school certifications of two or more dependents enrolled in college.
***NOTE:
Applicant shall not be a recipient of any government-funded assistance except for Free Higher Education in SUCs and LUCs under RA 10931, the "UAQTE Act of 2017."
DOCUMENTARY REQUIREMENTS
Citizenship:
– Certified true copy of Birth Certificate
Academic Requirements:
– Duly certified true copy of grades for Grades for the latest term/semester attended
Income Requirements: (whichever is applicable)
– Latest Income Tax Return of parent/s or guardian;
– Certificate of Tax Exemption from the BIR of parents/guardian, if not employed;
– Certificate of Indigence either from the Barangay or DSWD;
– Case Study from the Department of Social Welfare and Development; or
– Latest copy of contract or proof of income, for the children of Overseas Filipino Workers and seafarers.
Other Requirements:
– For indigenous and ethnic people (IPs), Certificate from National Commission on Indigenous Peoples (NCIP)
– For dependent of solo parent, Solo Parent ID or Certification from DSWD/MSWD.
– For PWDs, Medical Certificate or PWD ID.
Download – CHED Application Form
Source : CHED Regional office Vll